Business Digital digital marketing Agency
Digital Marketing Services for Small Business
Local SEO
What is local SEO?
Local SEO is the process of optimizing a website for local search results on Google and other search engines. It's a little bit different to "regular" SEO, but it still works just as well — if not better — than traditional methods.
Local SEO can be broken down into three main tasks:
1) Optimizing your content for local results
2) Building a local presence on social media and other platforms
3) Getting reviews from real people (i.e., not just friends and family)
Why is local SEO important?
Local SEO is a way for business owners to optimize their websites for local search results. It's all about creating content that is relevant to local searches, and then optimizing the site so that it shows up in those searches.
Local SEO isn't just about ranking your site on Google Search and Bing, though. It's also about ensuring that customers can find your business when they need it most.
Local search is one of the most important parts of any online business. It's where your customers are searching for you, and it's also a way to reach out to new customers who live in the area that you're targeting.
According to an Survey of Google
30% of all mobile searches are related to location. For eg. doctor in HSR Layout, Hotels in HSR Layout
78% of people who search for something nearby on their phones visit the business within a day. For eg. When we search doctors near me, Saloon near me
28% of searches for something nearby result in a purchase.
How does local SEO work?
Place the Map Pack Image of Music clasess in Kormangala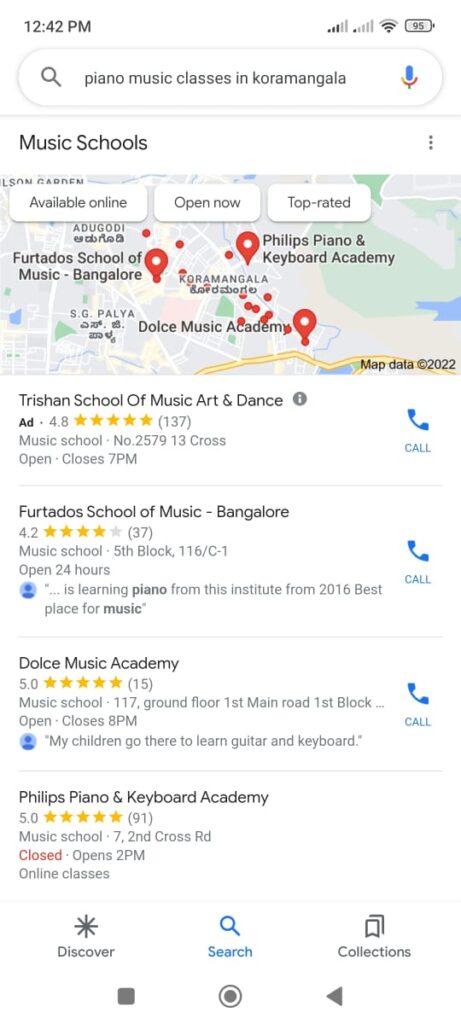 Local SEO results in 2 ways,
Organic Search with in the MAP Pack
Regular Organic Search Report
How to Optimize any local business that local SEO work?
Keyword Research for Local SEO
Keyword Research for Local SEO is a process of identify how people search for local services that are more related to them.
It's vital because you want to optimize for what people search for.
Finding relevant keywords like what people are going the think in finding the services that need or required. For eg. When we need to find a Physician we try to search Doctors near me, Hospital near me.
Try to find out the Intent of the Keyword, based on that you can figure out what actions has to be taken on it.
Local SEO ranking factors
One of the major factor of Local ranking is NAP, NAP is Name, Address, Postal Address verfitication which Google will only do it by GMB(Google Mybusiness) now its known as Google Business Profile
As Google say "Stand out on Google with a free Business Profile
" by creating Google my business profile. To create Google My Business Profile Click Here
Why do you need to create GMB?
Because GMB is
Free of cost or No Cost
Easy to Manage
It can be Personalised
GMB can be Personalised by additional information like your address, images, working time and also an free website.
GMB will also help you to connect with your customers by review their experience in Google review, as an owner you can update the status by creating Posts, Offers & Events.
Show what you Offer by
Posts
Offers
Events
Discounts for limited Period